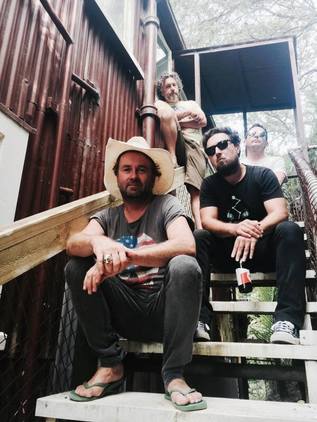 Aaron Carpenter
_
gave me a ring from the middle of nowhere on Waiheke Island the other week to have a chat about the Southern Fork Americana Fest this coming Thursday. He's playing alongside Donna Dean and Greg Fleming at the "Kiwi Country Pioneers" evening.  
"I started off as a kid at the Gluepot [of old Ponsonby] and Java Jive [of old Ponsonby] as a harmonica player. I got talked up on stage to play with all the older guys. Once they let me up there to play I started playing with my own bands. The Revelators were put together for a fundraiser on Waiheke Island, when i got asked to put together a band by the organisers. After the fundraiser I went up to the barn where we'd recorded some of the music and played one of the guys all my original stuff and he said we should record this, and that's how the band came about. This was only just under a year ago."  
Aaron is the songwriter and plays the harmonica on top of this. "I found harmonica first, was really into blues music, backed myself up with a brace around my neck and playing guitar. Found Bob Dylan and Neil Young obviously, and then went down the folk route. As a young kid, my mum and dad had a great music collection. I think everyone likes a story, especially as a young kid you're looking for that, so with Chris Christofferson and Johnny Cash, the stories of those guys in the 70s were a draw card for kids." 
Aaron Carpenter and the Revelators have a new EP out,
The Hardest Thing
, on the 13th of November, and will be showcasing a lot of this material at the Tuning Fork. They recorded it up in the old barn.  
"We wanted to record it in an old place, with old guitars, old amps and old German field mics. So when you listen to the album it's got that old feeling, you can almost hear the creaking of the doors. We just mic'ed up the barn, rather than the instruments and pressed play. Just do it like the old days, the music suited it. We have three female vocalists and that's the only overdubs we did." 
Catch Aaron Carpenter and the Revelators at the Tuning Fork as part of the
Kiwi Country Pioneers night this Thursday 29th October!
(FINN MCLENNAN-ELLIOTT)