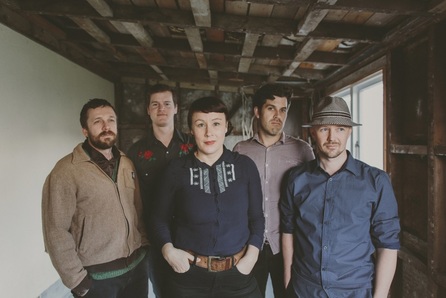 Eb & Sparrow
's eponymous
debut album
last year was one of my favourite albums of the year. It has been on rotation ever since, so when I heard there was a follow up within the year I was stoked! 
Sun/Son
 lives up to 
Eb & Sparrow
 as I had hoped.
Recorded by Tui Award winning producer Brett Stanton, in his own home in Te Awanga in the Hawkes Bay, walking that line of Americana and folk with a hefty bit of alt-country twang, Sun/Son fits perfectly into the genre that is developing in New Zealand right now – and what a year we're having. From Marlon Williams debut to The Warratahs, and still to come we can look forward to new Delaney Davidson and Tami Neilson records.
Ebony Lamb is the voice and songwriter behind the five piece out of Wellington. She is surrounded by a band of exceptionally talented men that craft a rhythm, and a backdrop to her soulful voice. "I Want You" features the haunting sounds of lap steel, and a softly moving rhythm section that sits delicately beneath Lamb. Bryn Heveldt's lap steel is the instrument that really draws me in to Sun/Son. Its voice is found in the background of songs, soaking up any empty space and creating that tone that we come to associate with Americana and folk.
Songs like "Mighty Wind" show off the alt country side of the band, with some delicious Latin trumpet from Chris Winter rounding it off. When he is not playing brass, Chris can be heard on guitar or bass. Nick Brown's drumming perfectly supports and adds to each song. Never more present than it is needed – always just right. Harmonies are carefully placed on the album, with Jason Johnson, of the Auckland Boys' Choir, responsible for many of these. For those that want a bit of a boogie, "Loaded Gun" is a foot tapping number that brings Winter's trumpet to the forefront again.
Lamb writes of the truth of life's heartbreaks and hopes, and delivers lyrics that have garnered her respect within the music community. She's prolific and clearly a force to be reckoned with, crafting a second album that will be remembered. Her and her band have already shared stages with the likes of Rodriguez, Pokey LaFarge, Wagons and many more; a fine resume for a band that began in 2010.
Further credit goes to Grimoire for a vibrant and bright cover that contrasts with the lush and sweeping soundscape that Eb & Sparrow offer.
They head out on tour to celebrate this in September. You can catch them up Auckland way on Saturday 19th September at the Wine Cellar, Sunday 20th at Leigh Sawmill and on Monday 21st in a limited seating show at Freida Margolis.
For a limited time "The Sun" the first single is available for free download below! 
Sun/Son comes out on Friday August 28th! 
(FINN MCLENNAN-ELLIOTT)