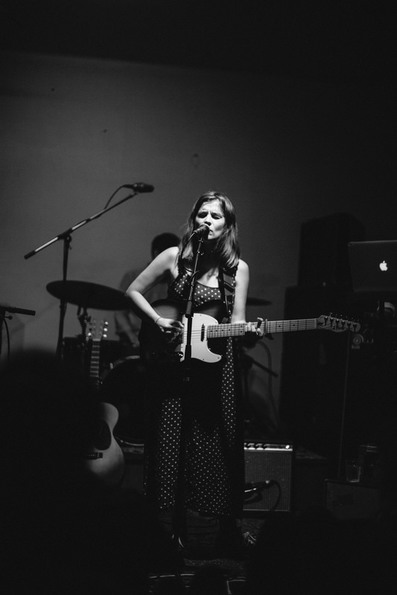 ​"I have lived my life
Heart out on my sleeve"
Opening song 'Dream' from The Lay of the Land neatly encapsulates what Lydia Cole is about – direct, honest, earnest and genuine, it's stripped of guise, and that is every bit her strength.
 
At the same time, every element has been carefully thought out. There isn't a note out of place. The album breathes, grows, leaves you happy by the end, yet reaching for the 'repeat' button.
 
There are no fillers here. Having released 'Dream,' 'Telepathise' and 'Sober,' you could be forgiven for thinking you'd heard the highlights of the album. But there are other truly exceptional tracks: the gorgeous 'Glimpse', that grows just enough to leave you wanting more, to the steadily building 'Time is a Healer' (which both could easily have been singles), to more reflective songs like 'The Bell of Love' or 'The Fool That I Am'. 
 
Thematically, The Lay of the Land is more diverse than Me & Moon, a breakup album that was full of heartache. Sure, there are still songs in that territory, but they're lighter and brighter. Take 'Time is a Healer,' with softly jaunting chords, the guitar playing a synthy sounding solo in the middle that's married well with song's themes. It's playful, cleverly understated, but reveals more on each listen.
 
Even 'Sober,' a song that is more open than anything she has done before, builds slowly to a strong and defiant climax, sounding less melancholic than previous work as a result.
 
'Telepathise,' a song so silky and beautiful it gives me shivers, is brilliant in its subtlety. The hypnotic refrain "all the lovers telepathising" is very hooky, but never overbearing. Produced by long time collaborator Nic Manders, The Lay of the Land is generally more playful in production than Me & Moon, and is full of moments like this. Quirky synths, delicate piano, and guitar lines abound, never out of place with Cole's beautiful warm voice.
 
Cole's clear diction makes lyrics easy to grasp at first listen. However, the album has some gems that reveal themselves after subsequent plays, such as the thoughtful opening lines on 'Telepathise,' or on 'Time is a Healer':  "I make progress / Then I undo it / I catch nightmares / And take them to bed."  
 
I can't speak highly enough about this album. Lydia Cole is a truly exceptional artist, and this album is at the peak of her game. As with so many kiwi artists who leave our shores, it may be that many people "discover" Cole after she has become far bigger overseas. She is off to Berlin any day now, where she is sure to find attention with this sort of quality.
(FRASER BROWNE)