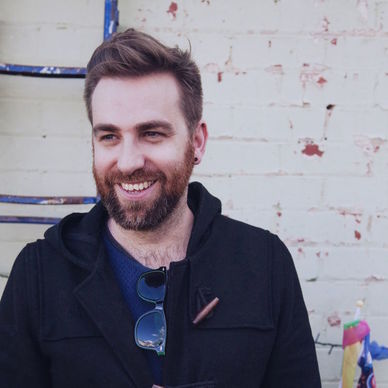 Josh Pyke
hasn't performed in NZ for nearly ten years and he's very excited to be coming back. Having just released his fifth album,
But For All These Shrinking Hearts.
in 2015 and a live album with the Sydney Symphony Orchestra last year, he's been busy and has a lot to show us! I gave him a call earlier in the month and had a chat about life on the road and back home. 
Josh has two children, three and six, at home and so splits his time between touring and being home, "A bit of a double life." 
"It's actually really good because there'll only be three batches of tours a year, and I usually only tour from Thursday to Sunday. So unless I'm overseas I'm pretty much always at home. Maybe a month or so a year when I'm away most weekends, and then I'm basically always home, which is great. I get to spend a lot of time with the kids…
"It was definitely more hectic when they were babies, but a bit easier these days. Pretty regular family except me disappearing for some parts of the year."
He's lucky to have a studio in his backyard, to work away at songs, record demos and generally just hang out. 
"It's a 50 metre square open plan studio – was an old pottery studio that I renovated a few years ago. I pretty much do all my stuff out of there these days. I've always done my demos out of it. It's great I just head down there most days and lock myself away and write and record. It's pretty multipurpose. It's just a good hangout space." 
Josh records a lot of his own demos, but has always left the self-produced space to find other producers to help with the final takes on his albums. 
"I do love doing it myself. In terms of getting objectivity and getting out of your own head it's good to take a project to a certain point and then move to a different studio and get some different ears on it."
Jack Carty has long been a friend and touring buddy for Josh, and was actually the catalyst him wanting to get back to NZ.
​"He speaks so highly of it over there, and made me think 'why haven't I been over there touring more?' It's one of these weird little things, where I just haven't, so I'm stoked to be getting over and doing it more often in the future. It's five hours to get to Perth or Darwin, only three hours to get to you. A bit of a reconnaissance mission really."
Josh Pyke is coming solo to play in Auckland, Christchurch and Wellington, not a rare occurrence for him, as he only travels with a band to celebrate his album and play festivals. His solo shows are the real bread and butter and where he hones his skills. Last year, he released  Live at the Sydney Opera House a collaboration with the Sydney Symphony Orchestra. 
"It's always been something I've fantasized about having happen. So we contacted the Sydney Symphony Orchestra and I performed with them, we did two nights at the Sydney Opera House. It was such an amazing experience and I was very excited to get it out on an album."  
His fans are really important to him, and for each album he ensures that he does what's called Fans First. These shows are specially organised for those people who love Josh Pyke. It's normally organised as a pre-order the album and get a ticket deal. 
"I do this before the album comes out. It's my way of reengaging with my core fan base every time I do a record. You know, you do an album and then your tour it and then you drop off the scene for a while. This is my way of saying get ready for this to happen again. I share the songs with them first, and the stories of the songs with them." 
Among all the shows, the symphony album, touring his recent studio album, Josh found time to make a beer last year.
"There's a great brewery called Young Henry's here in Sydney, and I've been an avid home brewer for years, and developed my home recipe. I called it The Summer, and when I had a tour coming up I approached Young Henry's to talk about up scaling my own homebrew recipe. We did 80 kegs and took it on the road while I was touring, to the venues and around them. It was a big success, really fun." 
All dates and details for Josh's NZ shows are below, click the links to find out how to get tickets! See you soon! (Also, check out those sweet support acts!)