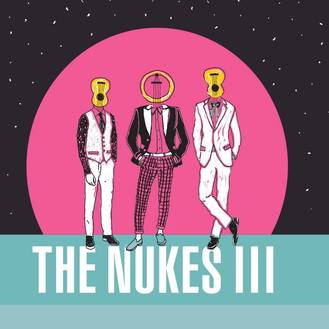 ​
Fun plus some more funThe Nukes III
The Nukes
have been a favourite in the Secondhand News office for some time. With their fun and infectious songs, they're in for a good time and for giving you one too. 
The album
III
doesn't spend any time mucking around; 'Call On Me' is a great quirky opener, with big foot-stomping drums it's bound to be great fun live. The album's fun vibe continues with 'Bootstraps,' 'Palomine' (which sounds like an old parlour tune), the reggae-infused 'On Your Side,' or the catchy 'Congratulations.' Even the slower numbers are upbeat in mood. 
If you are the lyrics type, you're going to be singing along and laughing at the wit throughout. From 'Call On Me,' which has the protagonist saying you can call on him when you need some help:
"When you can't find your car keys
You're being hassled by IRD
Or maybe not those last two things
Let's draw the line at urgent scenes
Like runaway train
Lady on the tracks
What do you do…
Call on me, I'll see you through" 
Or take 'Bootstraps:' ("If you're broke and wasting time / The government will tell you / Pull up your bootstraps you're gonna get along fine") 
With a range of genres including folk, bluegrass, loungy jazz and pop, the album remains cohesive with the vocals of Dave Parker, Snapper Thiele, and Ben Collier. There is great instrumentation throughout, including everything from fiddle to banjo to slide guitar and of course, ukuleles, linked together with their typically strong harmonies, bass lines and fun percussion (think subtle hand claps, shakers). 
Produced by Gerry Paul (who played with Grada and incidentally has made the best kids' CD I've ever heard in
Hank the Wrestling Shark
), recorded by Louis Bernstone with some additional recording and mixing by Thomas Voyce, mastered by Mike Gibson, the record is bound to get you in a great mood. It's the sort of lazy Sunday afternoon, friends round for dinner, vino in an armchair while reading, or just finished doing your tax for the IRD and need to cheer up sort of vibe. Oh, and if you have kids, it will get them in a good mood too (hey, this isn't a kids' CD, but that is a definite plus point for parents). 
All together now: "You got me feeling great…"
(FRASER BROWNE)