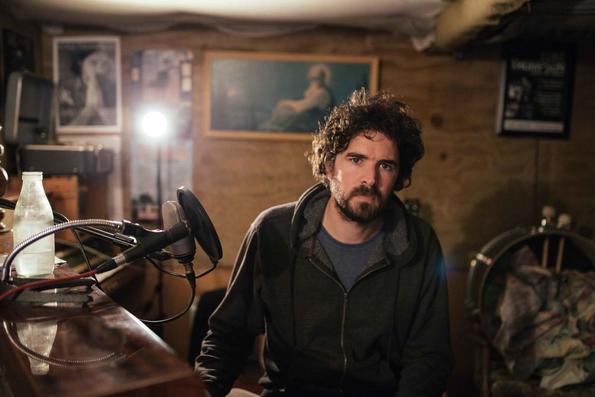 While recording
Hosts,
Luke Thompson wondered whether it was a little too different from his past material to release. Fast forward a few months, and he's glad he did – the album garnered his first nomination for a Tui. 
We talk about the album in Luke's garage, which is kitted out like a small recording studio, filled with iconic mementos, rugs, guitars, an upright piano and an organ, as well as the ancient looking Apple computer on which he recorded
Hosts
.   
Luke says it was surreal being nominated for the first time. "That cracked me up because I've been doing this for so long, and then you make something completely left-of-centre that you think is really weird. It's completely thrown me." 
Hosts
was written in snatches: quick moments that Luke Thompson could grab hold of in between packing to move to Australia. The process (as far as there is one) was "completely different" for Luke. "This just went against [my usual process] in every way. Left me a bit like … 'now I don't know what to do.'" 
It came in the wake of deciding to take some time off music. Thompson decided to record really simply, in a basement, using one guitar, piecing it together carefully. Instead of gathering a group of songs, like usually, he went with his intuition, gut feelings and emotions, and stuck with the songs that fit the vibe. He recorded "freely", not worried about end results. "I'd sing a word, and I'd think, 'no, I can't use that because it's wrong for the project'. Whereas in my other projects I'd be trying to write what was right for the song." 
Initially, Luke thought he might have to release it as a side project. "Until halfway through, I wasn't planning on showing anybody. It was just therapy. Back to music being fun. Back to doing music for me. As it progressed it dawned on me that I needed to release something different. To just do the same thing forever was probably just boring for people, and me."
Despite the relaxed approach, there was some pressure, as the family was moving to Australia, which created an enforced deadline.
 
"It was good we were going. It was the first time I had self-produced and recorded anything. And if we didn't have the deadline of leaving I never would have finished mixing it… But I had this deadline and so I had to actually finish it before I felt like it was finished, because I didn't have any of my equipment with me in Australia. So I just took the mixes with me, and got them mastered months later. But the mixes were done – there was no option of changing anything."
 
Now back home, the shows are the first Luke has done in NZ in two years, bar a couple with Joseph and Maia. And rather than playing solo, there's a band with him (Dave Baxter from Avalanche City, and Van Der Wel). "I'm really excited about the show. It's a really different feeling than tours in the past, where it's been just me. This is a whole different thing."
 
Opening for all four shows of the tour is the delightfully honest and equally sardonic Van Der Wel: "He is perfect [to open] – I couldn't think of anyone other than him. I feel like I ripped Phil off a bit for Hosts…  I mean he's part of the inspiration."
 
Van Der Wel also provided a delightful video for 'Boxes' (which you can link to below), which gets us talking about how much freedom the digital age has given, to find new ways of creating and releasing things. The video was in response to Thompson's novel idea of asking friends to shoot a video inspired by one of his songs.
                
"I am just excited that things have changed [with the digital age]. It means there's constantly free creative space – where it's kind of like, 'well, no one's done this, no one's thought of this.' I think it pulls the walls down a bit. Six, seven years ago, if you were releasing music, but no label wanted to work with you… back then it was a bit of a problem. And now it's not the case. It doesn't matter."
 
The digital revolution has changed people's way of consuming music, too.
"People are keen to get rid of their boxes," he laughs. They want to stream music, rather than lug everything around with them ("Aside from vinyl… Isn't it amazing to see the resurgence of vinyl?").
 
It also gives artists who may not have been heard a whole platform. "Now there's space for it, and a market, and ways of monetising it. It's exciting man. Spotify is cool. Love it. It just opens up the whole industry. There are new things that are going to happen, and there are no gatekeepers."
Just about the only thing you can't get online is a live show, with the energy in the room of a performance, and the "connection" with a performer. "When you're in the room, and there are people there, there's energy… Something cool happens."
 
With that, we wrap things up with a coffee and slice, before he gets into a rehearsal with his band.
Check out the latest video for 'Boxes,' starring Phil Van Der Wel, and made by him and Chris Lane.
{LINK https://www.youtube.com/watch?v=tMsxtNYkhZ0}
 
Luke Thompson is joined by his band for the tour (Auckland, May 5, Tauranga, May 6, Te Awamutu, May 11, and Wellington, May 13). A link to tickets is available through Luke Thompson's site
(FRASER BROWNE)