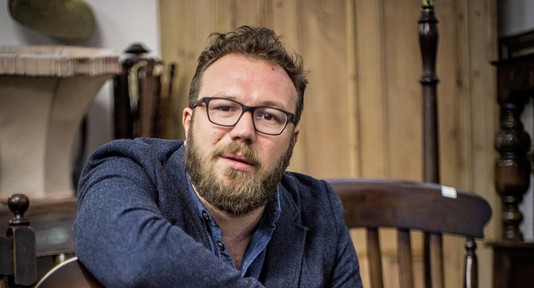 Ben Ottewell
is a name known from his days playing in British band Gomez, but he's just released his third solo album! 
"I'm unemployable", he says regarding the touring lifestyle and why he keeps going! Let's be thankful Ben Ottewell is still playing and writing music, we're better off for it! It's been 20 years since he started, and this latest record is some of his best work, unforced he says, and raw – with minimal instrumentation. 
"Gomez have been very lucky, from where we started out, pre-social media and Spotify and things," Ben says with regard to having the fans and being able to keep doing what he's doing, based on the support of these people that found them before it was easy to find music. 
Best known for his distinctive voice in
Gomez
, Ben has been running the solo career for some time now, as Gomez, "Are on an extended hiatus. We've all got families, definitely one of the reasons we all decided to hold fire for a bit. For me, I felt we were treading water a bit there, and if we were to go back into the studio again at that time, I think there would have been a certain amount of faking it. It didn't feel like the right thing to do at that time." 
His new music is a definite shift in sound from what he played with Gomez, moving in an acoustic, folking way rather than the indie pop rock. "That was always the area and stuff I was into. I was into all sorts of music, but that was always the stuff that drew me – things like Neil Young and even stuff like Led Zeppelin III. The kind of dynamic you can achieve within that is something I've always liked, I'm a massive fan of JJ Cale. A lot of it is to do with my voice, it's so distinctive, that whatever I did it would sound like me. But this is just where I find myself, it's the songs I'm writing. With
A Man Apart
I didn't want to take it down a production path just for the sake of it, this is where the songs were." 
A Man Apart
is his new record released at the end of May, his third solo album, and the reason we're to be treated to his second solo show after his 2014 Tuning Fork appearance.  
He's over the moon with the people he got to record on the album and speaks to that, "If you collaborate make sure everyone in the room is better than you!" He laughs. "These songs have a greater lyrical depth than anything I've written before. To the extent that three of the songs there's barely any instrumentation on them at all. I didn't feel the need to, we did them that way and it worked. I cut a version of 'Bones' in LA with piano and bass, and we got over to Sheffield and I was quite unhappy with it, and Martin Smith, my engineer, said well, 'Go in there and play it how you want to play it.' It was like 2am, and we'd drunk half a bottle of bourbon, but that's the take that is on the record."
He's been to NZ a few times, with his wife, visited Rotorua and done a couple of hikes, so he's excited to be coming back! 
Ben Ottewell will be supported by indie band from Los Angeles, Buddy at The Tuning Fork on Friday 23rd June and San Fran in Wellington the night before, Thursday 22nd June. Tickets can be purchased from here!
(FINN MCLENNAN-ELLIOTT)