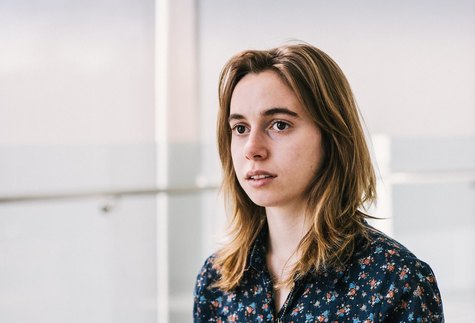 ​Loops, introspective lyrics and proving herself wrong are all part of what make up American folk artist
Julien Baker.
Baker will perform her debut New Zealand show at the
Tuning Fork in Auckland on July 23
, with support from
Adam Torres
. 
Speaking from her home in Memphis, Tennessee, while on a break from touring, Baker said she was looking forward to performing with "just me, my guitar and my loops" to a Kiwi crowd.  
The electric-guitar-playing 21-year-old was enthusiastic about describing her stage set-up, though it had to be scaled back for international shows.
"I'm a complete geek about guitar stuff.'' With two loops, and a range of Walrus synth and delay pedals, she described the Walrus equipment as her "desert island pedals".
 
Baker was even working programming her Nord stage vintage keyboard to produce a variety of sounds, as well as working with synths and loops. "I'm trying to play guitar and keyboard at the same time.'' However, at 5ft long, the keyboard was "as tall as me" – making it difficult to transport internationally, so she was only currently touring with it through the States.
 
She said it had been a "really crazy'' time transitioning from going on tour with DIY bands for short amounts of time, where there was a "suspension of your reality'' of daily life, to touring for more than 30-days when music "becomes your profession".
 
With a new record expected out in October, Baker was pleased to be able to write and record on the road, with "hundreds of voice memos'' and a journal full of "notes and poems'' to work from, before putting it "all together'' at soundcheck.
 
While the knowledge that she was now writing music that a growing audience would hear had made her question some of the lyrics she was writing, it was also a good challenge for her authenticity.
 
"Those lyrics which I feel most doubtful about singing and are the most honest . . . I feel most committed about leaving them in there.''
 
She said talking about and performing the songs from her debut EP Sprained Ankle for more than year had caused Baker review why she had written what she had. She had been able to find a bit more hope in the often grim lyrics, enjoying the ability to "prove myself wrong''.
 
The lyric "I ruin everything I do" was one example, where she was now able to say, "Well actually I don't" and look at what previously might have been a bad experience as an "opportunity for grace" for herself.
 
However, her new album would still have a similar sad-song electric guitar sound, with dark lyrics and a bit more piano.
 
"They're still pretty bummer jams," she said with a laugh. "When we're really probing the depth of our reality is [usually] when we are looking at grief or pain.''
 
That exploration of life and its big questions through her music also tied in with being an "out" queer musician, who also discussed her Christian faith.
 
She said people came up after shows to tell her that her songs had helped them come out to their parents, or discussing her faith in her songs had enabled them to be okay with having doubts or "reconciling" faith and sexuality. While people had suggested she was better off to play music without discussing her beliefs or political views, she said it was an "unreasonable expectation'' that artists could or should not use the platforms they had to speak up to improve the world, Baker said.
 
"I don't think art can not be informed by society and the politics of its creation.''
 
However, she said her music was not that specifically political.
 
"I'm not writing Green Day's American Idiot.''
 
She did not see herself as any more important than her audience but had had a "Sennheiser 68 [microphone] put in front of my mouth", so she needed to use that opportunity to improve the world.
 
"I cannot say things that are vapid and meaningless.''
 
She said people telling her not to speak her mind on stage was like they wanted her to be honest in her lyrics, but not speak about those things that informed her life – especially with the state of the world's politics.
 
"There's not time for apathy."
 ••••••••••••••••••••••••••••••••••••••••••••••••••••••••••••••••••••
 At the request of Second Hand News, Julien Baker recommended three artists, including Camp Cope.
 
"They're just really wonderful human beings that make great political, socially-aware [music].''
 
Her other suggestions included folk artist Phoebe Bridgers, who performed with a "similar sparse set-up", and Half Waif – who write avant-garde but "very clever and beautiful'' electronic tunes.
(GRETA YEOMAN)