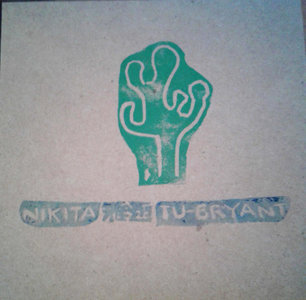 (Before and After) Joshua is an album that tells of a lover met, and lost – the story relayed in cover to cover from the beginning to end.
The album is lo-fi and down to earth – sometimes even capturing sounds of birds and the sea. And Nikita even hand-made all the albums. You could say the project was, quite literally, a labour of love.
The concept is an interesting one, made even more so by how it was recorded: in a single take, in her van while on the road. It's bare bones folk, with a touch of jazz in the playing; Nikita's expressive guitar playing, and rich, beautiful voice are the only instrumentation. Meaning that live, it's much the same – and it has to be said she's quite a player and singer.
'Night Train' has a repeated bass line with playing on the higher strings that makes it sound a little like Jose Gonzalez, effective in this context. 'Dirt Roads' was written by Joshua (not his real name), and re-written after Nikita decided his "silly country song" was actually pretty good. (On a side note, Nikita says she called Mr Unknown "Joshua" because they visited the Joshua Tree together.)
The beautiful 'Already' and lurching 'Lunatic' build the album, before the 'The Art of Getting Over Something', which has Nikita talking at the beginning of the track about moving on from loss.
'人', an instrumental, features beautiful arpeggiated guitars panning from left to right, the sort of lurching of a relationship finishing – a wonderful track.
Part of me wishes some of the songs had been fleshed out with a band – but then, that would make this the usual sort of fare. This is a unique take in this produced and re-produced world.
(FRASER BROWNE)