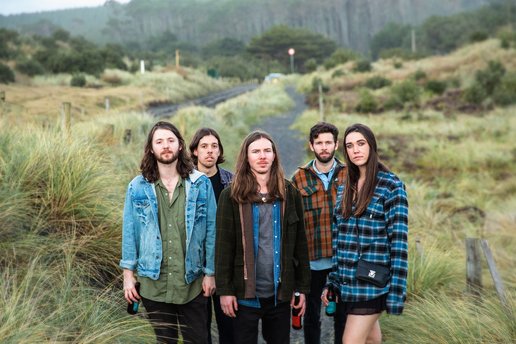 The Miltones
self-titled debut album
is full of energy and sass, the sort of record that sounds a little bit classic and worn in, and a little fresh, at the same time. 
Recorded with Lyttleton producer Ben Edwards, the record is catchy and fun, with dance-worthy tracks full of confident musicality. 
The Miltones
has some pretty serious talent. Featuring some amazing, wild keys from Guy Harrison, Milly Tabak's soulful voice often cuts well through the mix, sometimes sounding like Stevie Nicks (Fleetwood Mac). And the band also, at points, sounds a little bit like Tom Petty. Liam Pratt's tasteful guitar work is as expressive as the singing, and the band is rounded out with rhythm section Chris Marshall (bass) and Tom Broome (drums). 
Songs like 'The Wanderer' and 'Firing Way' especially take in the Fleetwood Mac and Tom Petty references, but there's plenty of twist in the delivery to make this record confidently original. 
The music has plenty of breathing space in songs like 'Carlos', which lets Tabak's voice soar high and free, while rollicking songs like 'Dancing with the Dead' and 'Glory' and 'Firing Way' are more expansive. 
Single 'Glory', an ode to despair and trying to find solace from heartache, has some superb vocals from Harrison and Tabak, and sounds like it could have come straight from the Civil Wars or 'Oh, Brother Where Art Thou'. Classic and soulful in other words. 
A really solid album that's bound to appeal to people who like Ben Edwards' work.
(Fraser Browne) 
Editors note: Fraser Browne is actually supporting The Miltones with his own band Paper Cranes in Tauranga as part of their album release tour on June 24! All details can be found here!