Reb Fountain
 is who we should all aspire to be. For me, she epitomizes all that is good in the music community. Reb's having a big year in 2017, she's finally released an EP, 
Hopeful and Hopeless
, that has been sitting to the side for over three years, and is going to put out what is sure to be a stunning album, 
Little Arrows,
 in September that was started six and a half years ago, alongside her comrades Dylan Storey and, the late,
Sam Prebble
. I thought I'd take some time to talk about Reb and why she is a musician who, for me, is one of Aotearoa's best.
In October 2014, I was just starting the journey that would result in Second Hand News being created, my series of Folk at the Old Folks shows and all that has come. I decided to put together a fundraising live to air radio show at Hum Salon to help them get the funds they needed to keep their house together. On the Tuesday, I started messaging some artists asking them to come play on Wednesday night, to help Hum and myself. We had some bagels, some beers and some enthusiastic amateurs. That was all we could offer in return for playing. I messaged Reb Fountain for the first time and asked if she'd like to come play, apologizing for the short notice and understanding it was a long shot.
"Hi Finn – sounds great – I'm keen to come play a couple of songs or whatever you need." Reb came to play, straight from work if I remember rightly and she absolutely blew us away. She played songs from Hopeful and Hopeless and they have been the soundtrack to so many of my nights between then and now. I have sung the chorus to 'Hopeful and Hopeless' dozens of times, over dozens of gigs, and each time I'm always happy to be one of the crowd singing along!
During these three years Reb has come and played in my home at rough and ready house concerts, she's played at shows I organized and I have made my way down to the Wine Cellar and sung my heart out to her beautiful songs. It was with great pleasure that I picked up her record to play her songs in my own home. 
It's hard being a musician, or anyone in the music community, we all know that. There are the shows to three people, or the shows you've put on that only ten people buy tickets for. There are people who make it worthwhile though, there are those who turn up for no other reason than to support you, help you out and because ultimately, they are playing music because they love it. Reb is one of those souls.
I write this having come home from the Wine Cellar and her EP release show, performing alongside Dave Khan, Dylan Storey, Tom Cunliffe and Nick Atkinson. These are just some of the musicians she's introduced to me, alongside her other musical family from the South,The Eastern, and now, Ravens. For me, folk music is about family, community and a feeling of inclusion, and Reb has always made people feel like they're part of hers.
Hopeful and Hopeless is perfect. Reb surrounded herself with amazing musicians at The Wine Cellar when they recorded this, Dave Khan, Dylan Storey, Brendan Turner, Cole Goodley and Sam Prebble. Reb has said this was one of the last time's she played with Sam before he passed away, in October 2014 shortly after I met Reb myself. Releasing the EP has been a long process for Reb, to revisit these songs and put them out the world.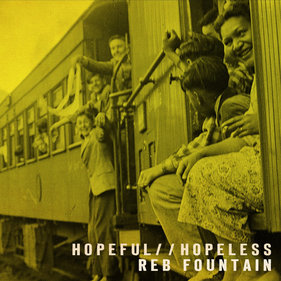 We open with 'The Truth About Us', a song she wrote for Glen Innes, the state houses and her neighbourhood:
"Just on my block there's ten single mums, kids run the street while they're sucking their thumbs. Gang house on the corner, school on the other, we grow. You want to shift us to build high rise homes."
Reb's not shy to tell it how it is. She has always been upfront, always used her music to tell the things she feels are important. 'The Truth About Us' joins an esteemed collection of Kiwi songs, it is one of the greatest we have.
'Gold' drives the middle of the EP as it brings the tempo up and has some bite to it. There's a nice little circle closed with the EP – Reb's line sung in 'Crazy Horse & Violence' – "All my heroes killed cowboys." Adam McGrath of the Eastern sings this, attributed to Reb Fountain in his track 'Talking Americana Cowboy Yeeha Blues' and I've been waiting, hoping, we'd get the original line since I heard Adam's. 
'Dance With Death Alive' is a song that requires a few listens – to hear the words of wisdom. The instrumentation is delicate, supporting Reb and her words, Dave on accordion and Sam on banjo. These lines really sit with me and sum up what Reb is about, and why her songs resonate with me:
"I used to think a song was made to help you feel. Strange how a song made for money is just a cog in the wheel, feels kind of dirty, like it's got no meaning left to sing."
​
Chris Dent (Albi) told me, "Reb has a unique ability to write songs about her own experiences that are relatable to anyone. Not many songwriters can evoke emotion quite as consistently as her." 
Hopeful and Hopeless was recorded in the Wine Cellar, mixed and engineered by Rohan Evans, maestro of the bar. It was mastered by Simon Gooding.
The Wine Cellar last night sung its heart out, and as Reb taught us the words to 'Hopeful and Hopeless', she realized that everyone already knew them! She left the stage to roaring applause and closed the night with the first song she learnt on guitar, 'St James Infirmary Blues', giving it the Reb spin.
We all went into the night, singing:  "Hopeful and hopeless, hopeful and hopeless. All you guys better open your eyes, get us out of this goddam mess, and fight for the hopeful and hopeless."
 
Before I sign off, Reb has launched a boosted campaign as she looks to release Little Arrows in September. Please go and take a look at this, donate and help Reb release an album that has been a long time in the works, one that will allow us to hear Sam Prebble again. One that she is so proud to share!
 
​(FINN)