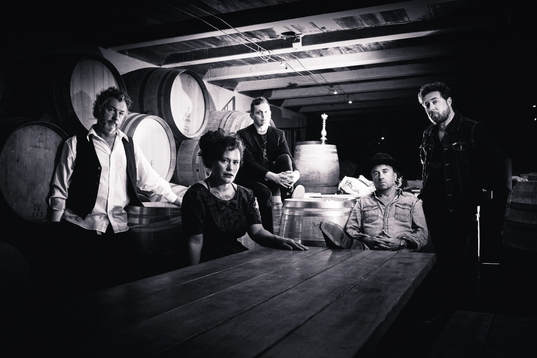 Beloved Waiheke country/rock act
Aaron Carpenter & The Revelators
 delve into their new- found swamp sound with their grinding and gritty single, '
Pretty Lies
'. Recorded in a barn on Waiheke Island with producer Nick Abbot (The Subways, Robert Plant, The Datsuns), the track conjurers up a raw rock incarnation of their deep-seated country and blues sound. You can listen to that below! ​
The debut album of the same name is due for release this coming Friday 4th August and it's a hard hitting mix of classic rock influences and swampy alt-country. 
Aaron Carpenter has been making a name for himself over the last couple of years, having opened for Americana names Robert Ellis, Hayes Carll and Blind Boy Paxton at the South Pacific Tuning Fork, often alongside his band The Revelators. Having spent his younger days sneaking into the Gluepot, you can hear the influences of old rock and roll in the debut album. 
I spoke to Aaron just before the release of their debut EP in November 2015 and his appearance at the Southern Fork Americana Fest. You can find that here. 
We jump in to 'Pretty Lies' with a bang with the title track, distorted guitar, strong backing vocals from the ladies of The Revelators and a tasty electric guitar riff. This is something that is common throughout the album, strong riffs, a steady rhythm section and meaty guitar tones. 

'Pretty Lies' is certainly on the rock side of country, with tasty guitar solos and The Revelators know how to support Aaron. It's Aaron's voice and harmonica playing that draw me in though. He's got grit in his voice and is a beast on the harp. Aaron told me it was the harmonica that he found first, before songwriting and it's great to see it shining through on the album. 
'Gun Smoke Girl' will get you moving, with a chorus that was instantly in my head. The very restrained and tasteful harmonica in the slower boil of 'The Highway' is beautiful. A light touch of organ in the background is perfectly done – a good blues album is never without it. 'Never Hungry Long' is a massive anthem, which will sit perfectly in your playlists of over five minute rock and country tunes – ripping guitar solos, and that ever present huge rhythm section. 
I kept hearing bits of Led Zeppelin and bits of Pink Floyd in the music. Which is a great thing, and this is not to even speak of the cover of Led Zeppelin's 'When the Levee Breaks'. Aaron's voice really gives the band it's own sound that allows them to show these influences while carefully navigating the path of sounding original. I was surprised to see a Zeppelin cover amongst the songs, always a bold move but one that paid off immensely. The harmonica from Aaron, and some huge guitar sounds really drags you in. 
Moon Over Mountain has an element of Nick Drake to it, the acoustic driven track before they close out the album with the rocking 'Bullet in a Barrel', 'When the Levee Breaks' and their epic, 'Werewolf.' 
These guys are a must see live, I can just imagine how big their sound gets and the energy that would take over the room. With Aaron Carpenter & The Revelators and The Miltones both releasing debut albums, alt-country, blues and rock are in an excellent place right now! 
You can see Aaron Carpenter & The Revelators live celebrating the release of debut 'Pretty Lies' this Friday 4th August at the Tuning Fork with Sandy Mill & Band
(FINN MCLENNAN-ELLIOTT)