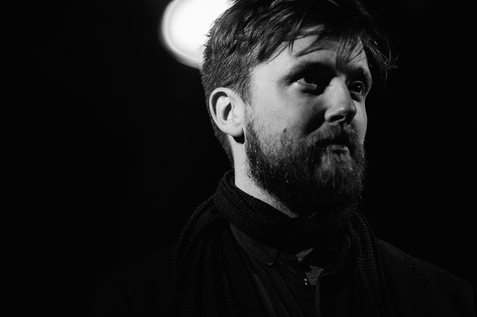 Something a bit different here from new writer Marty Jones – a chat with American artist Andrew Paley. 
Chicago based Andrew Paley has been creating music with his band The Static Age for around 15 years now. The band has released a series of albums that have been critically acclaimed and seen them develop a devoted fan base of their ambient post punk sound.
 
On the side, Paley has spent time writing and recording solo material, music that is much more stripped back, and as he puts it, evocative of "open spaces, sharp edges and bright colors."
 
His most recent release is 'Sirens', a 12-track record that brings together work of his from over the past couple years. 'Sirens' follows up Paley's debut solo album 'White Rooms', which was recorded with producer Matt Squire back in 2007.
 
Currently working on his next solo release as well as material for The Static Age, Paley is splitting his time between his studio in Chicago and a cabin in the Vermont woods.
 
Having known Andrew from around the time of his first solo album I decided to catch up with him to get a little background on the release of 'Sirens'.
 
So, you've just got back from touring Europe, what was that like?
Yeah, that was a blast. I was over there for a couple of weeks doing shows with Bob Nanna from Braid and Hey Mercedes as well as his wife, Lauren, who releases music under the name Cellarette. We toured around Germany and Italy together. It's been a busy year. Before Europe, there were a short run of shows around the Midwest US, and a few weeks before that I was in Japan for a tour with Garrett Klahn from Texas is the Reason and Tom George from The Lion and the Wolf.
 
So how long has it been now since The Static Age first started?
Oh man, we started playing shows at the beginning of 2002. We were all in bands together back as teenagers. So it's been a while.
 
And what were you doing music wise prior to The Static Age?
My first tour was when I was maybe 15 or 16, playing a telecaster in a thrashy grindcore band. I was also in a slew of punk and hardcore bands around then. We did some tours and put out some records as In Reach and then The Hemlock Verdict. And it was all the gateway to The Static Age. When The Static Age formed it was members from those previous bands — Adam, Bobby and I — trying something new together.
 
The Static Age had quite a different sound to the punk and hardcore bands of the time. Why do you think that was?
Yeah it was a little bit different, I suppose. We played a lot of shows and did tours that could be seen as a bit different for a band like The Static Age to play. We ended up playing stuff like hardcore shows at CBGBs and touring with bands like AFI and The Explosion. But it was always really inviting and everyone was great. We had the same roots and we were still very much a part of all that so it all fitted together. And then, on the other hand, there was this other set of bands like Interpol and Hot Hot Heat, and we'd end up on shows with them, too. It was an eclectic mix.
At what point did you start working on your solo material?
I was always doing some version of it all the way back to bedroom recordings in high school. Pretty soon after The Static Age did the 'Neon Nights' album, I went back to Phase studios outside of DC with Matt Squire, who was the producer on 'Neon Nights', to do a solo record called 'White Rooms'. So I was kind of dabbling with it on the side all along as a way to do something with all the other songs I was writing that didn't really fit the band. After that record, I spent a lot of time focusing on The Static Age, and put the solo stuff on the backburner for a while. I was still recording constantly in my own studio, but I wasn't releasing anything or touring on it. And then, during some downtime in 2014, I revived it.
Is 'Sirens' an entirely new work or is it a collection of songs from over a period?
It's a collection of songs that I pieced together from a pretty big backlog. When I was recording a lot of the songs, I wasn't even really sure what I was going to do with them. I was just writing and capturing ideas as I went. At some point I realized I had enough of them in varying states of completion for probably a few albums, so I went back through all of them and figured out which ones I thought would fit together, and then added a few new ones to make what ended up becoming 'Sirens'.
In terms of influences, who are you drawing upon for your solo work? And how is it different to the band?
Well, as evidenced by 'Sirens', my influences are pretty all over the place. On one hand, there's a host of people I admire when it comes to stripped down songwriting and what you can do with minimal instrumentation. Some that come to mind are people like Billy Bragg, Nick Drake, John Darnell, John K Sampson, Aimee Mann, Stephin Merritt, and Elliott Smith, whose song "Waltz #2" I just did a cover of for a compilation.
And then on the other, there are a whole bunch of artists that inform how I think about different types of songwriting and arrangement and layering and what you can do with the scope of a song — and who are great songwriters themselves — anywhere from Peter Gabriel to Kate Bush to the Psychedelic Furs to Tycho to Com Truise. That sort of stuff is more akin to what I've done over the years with The Static Age, but it definitely impacts the solo side as well. And as I evolve the solo work going forward, like on the record I'm working on right now, I think that will come out even more. I'm really enjoying approaching this project with no constraints on which direction to take it in any given moment.
Why do you think it is that there are a lot of people from the punk community that are now making folk music?
I think it makes sense. At their heart, a lot of good punk songs are really just good loud folk songs. The rendering is perhaps less full, but it can be just as raw, direct, and honest. At the root of any good punk song is just the song itself, after all, and hearing good songs stripped to their most base elements can always be compelling. And sure, there are a lot of people doing it, but if someone wants to pick up an acoustic guitar and see what noise they can make with it, why not? That said, as for myself, I don't think of what I'm doing now as folk. I don't know exactly how to describe it, especially given what I just said about influences, but I think elements of folk are more just one place to pull from than a definition of what 'Sirens' is.
And you've got a connection to New Zealand? Any chance of a show down here at some point?
Yeah a couple, in fact. The primary one is family. My dad's sister moved there years and years ago and started a family, so I have an aunt, uncle and a whole branch of cousins over in New Zealand. Beyond that, an old friend also moved there a few years back. I hope to be over to visit everyone soon!
www.andrewpaley.com
(MARTY JONES) ​