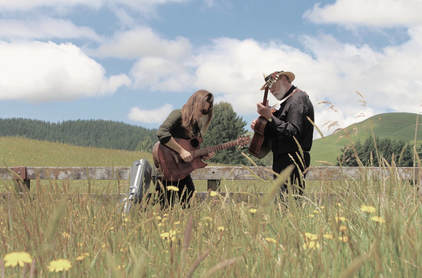 When you get two strong voices that compliment one another well you are already getting off to a strong start. Then when they are accompanied by gloriously simple arrangements that are true to the genre it's easy to see why Reverie is getting attention in their field. Victoria and Tony have created a satisfying journey through a list of traditional folk songs of which most you will not know. 
Simple arrangements, with vocal harmonies supported by one and sometimes two instruments are the backbone of the record. It could be a lovely articulate guitar or the thundering bounce of the bodhran, (a large circular drum that is thin and played with a double headed stick). Occasionally the Appalachian dulcimer, another traditional folk instrument that looks like a long diamond and is played with a slide, provides another outlet for the lovely melodies, offering a perfect break and gap between vocals. 
The vocal performances drive this record. Period. Tony has a fantastic voice for storytelling which is broad and deep in it's tone. The variety that he has in his vocal repertoire is absolutely fantastic and each song has a different but appropriate timbre that aids the story and is deeply captivating. Victoria sings a little less overall but whenever she joins in it adds a fantastic splash of colour to all the tracks. Harmonies sound absolutely effortless but don't let that fool you as her vocals stand strong when she sings her own parts in the duets. Her voice has traditional qualities that suit these songs but there is far more here then that. Whether it's her performance or just her natural sound there is a depth of soul to her voice and one could even call it proud.
Lastly it would be a crime not to mention the fantastic selection of songs that the duo have sourced to build their record. The tradition of folk music is strongly alive here as each song tells a different type of story. You will hear various stories of oppression, love and travels all from different perspectives and from different times. Reverie place them perfectly to create a pleasant listening experience that takes you on a journey through a variety of emotions.
Overall it's a great album that provides an excellent selection of songs, most of which you won't have heard before, and fantastic performances to create a unique and beautiful listening experience. If you like melancholic and, occasionally, upbeat acoustic music then this is a must for your music collection. 
(CHRIS DENT)