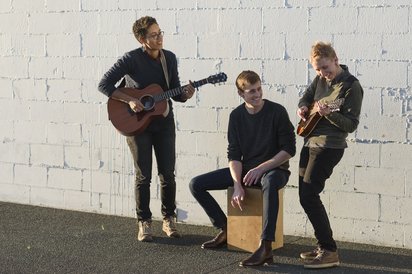 Tweed's
debut album, with the wry title
High Brow Blues,
stylistically sounds like it could have been plucked straight out of the 60s or 70s. Imbued with rich three-part harmonies and songs that are intriguingly complicated, the album swings between sounding like Joni Mitchell, Crosby, Stills and Nash and the Beach Boys, along with touches of bebop, and dare I say it, musical theatre. All in all, the sound is as vintage as, ahem, Tweed (somehow the name suits), while at the same time, very much their own. 
A sense of musical theatricism is evident through the album; it's no surprise that the members of the band – Nancy Howie, Steff Werman, and Devin Ashton – were commissioned to perform the score for Don't Blink Theatre Company's production of Vinegar Tom.
Opening with the beautiful 'Prologue,' with an 'Intermission' in the centre, and with a quote from Slaughterhouse-Five from author and playwright Kurt Vonnegut on the back cover, the theatric qualities of the album are almost certainly the band's intention. High Brow Blues is full of songs that take you on a musical journey, such as a despairing sailor in 'Landfall,' a love that wasn't or maybe was in 'Almost in Mexico,' and in the imaginings 'Dolphin.'
Howie, the main songwriter of the group, often finds something lyrically unusual to say in her writing. Take the line "I have been so many people" from 'Many People', the last song on the album, or in the questioning tone of many of the songs, full of introspection and wondering ("How do we construct our lives? / We're drowning in the answers / But the questions have been swallowed in time"), and in the mysterious storytelling of others.
The songwriting is also unusual, almost completely avoiding obvious choruses – but still retaining plenty of vocal hooks. The lyricism of the album also gives the impression that the album is best listened to in tandem with the beautiful book (designed by the talented Roseanne Bier).
With the energy of Ashton's cajon playing, Howie's guitar and Werman's mandolin, the music often shifts between fast and slower sections. Harmonies, a strength of the record, are taken on by all three players, and slide with glissando and swell in volume, often flitting between minor and major keys.Sometimes, I think a touch more double bass or a full set of drums on more of the songs would have added to the album, but the band has added plenty of colour otherwise with cello, electric guitar, and French horn.
Overall, the group has largely stayed true to how they perform live, and there is definitely a beauty to that; having seen them live, they do sound almost the same. Doing justice to this behind the desk is Jordan Stone from Roundhead (who recorded and mixed the album), and Chris Chetland at Kog Studio, who mastered it.
​
Tweed is off on tour supporting High Brow Blues, so there's a chance they'll be in a town near you soon.
 (FRASER BROWNE)