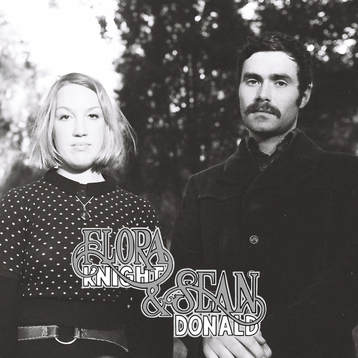 Armed with only a fiddle, a guitar and a sweet set of harmonies,
Flora Knight and Sean Donald
bring out all the old-time folk goodness on their self-titled debut album.
From the opening harmonies of "You're Learning" to the swinging instrumentals of "Saturday Night Waltz", the duo demonstrate their natural ability to play the traditional folk tunes.
The pair first met while Flora was travelling through the States and bonded over their interest in the old-time style of folk music, with Sean eventually touring as part of Fiddle Pie through New Zealand. He has since settled down, for now, in Dunedin and the pair are reguarly playing the record's songs in Dunedin pubs, having just finished an album release tour.
Flora, a former fiddle player for Christchurch country/folk band The Eastern, is now making her own mark on the country's folk music scene, following in the footsteps of long-time friends Nadia Reid, Aldous Harding and others. However, the pair set out an alternative sound to the more indie/gothic folk sounds of their South Island comrades, drawing on the history of America's early bluegrass scene.
The 15-track album, full of swinging tunes to get you dancing such as "Rockingham Cindy" and "Horseshoe Bend", relies heavily on Flora's constantly busy bow, accompanying Sean's quick chord changes on his guitar. However, it would not be an old-time record without some mournful country songs, and "Please Don't Stay Away" and "When I Grow Too Old To Dream" well provide.
The harmonies, particularly in the slower songs, are beautiful and complement the already strong songs perfectly, while enabling the songs to stand up solely instrumentally if need be.
The album was recorded at Chick's Hotel in Port Chalmers, the former venue turned into recording studio after shutting down as a gig space last year. The self-titled record includes many traditional folk tunes as well as a cover of Kiwi classic Blue Smoke.
So if some old-time country goodness is just what you need right now, hunt out Flora Knight and Sean Donald's self-titled album on Bandcamp.
(Greta Yeoman)