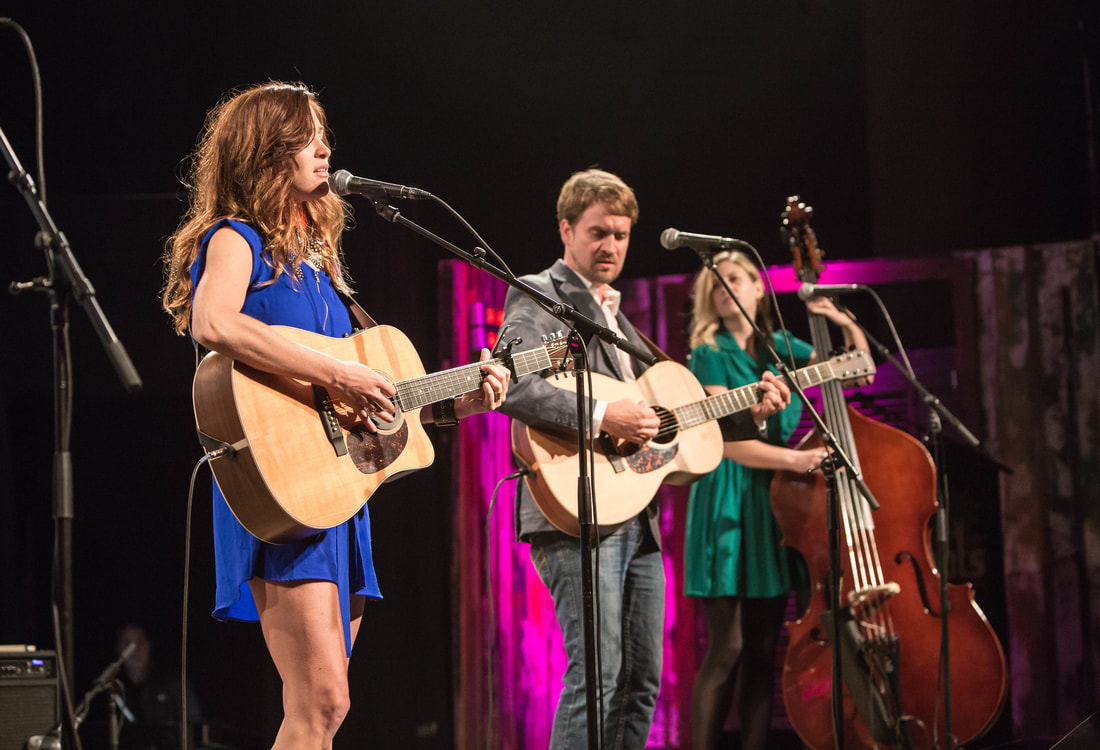 The Danberrys are about to launch an exciting tour of New Zealand at Bethells Beach Cafe this coming Friday 1st December.
A 

rhythmically seductive and emotionally connecting band, The Danberrys are led by Tennessee-born couple of Ben DeBerry and Dorothy Daniel – a truly unique pair of artists hailing from East Nashville, Tennessee. 
Finn sent some questions to them ahead of their first tour of NZ. 
"Bluegrass is relatively uncommon in NZ, we have a handful of bands, but there's not many young people getting in to it. With the rise in popularity of folk and lots of American bands coming over, I'm hoping this will influence a new group of young musicians. 
Obviously this isn't the case in the States, what do you guys do to define yourselves within the Americana/bluegrass genre?
That's a tricky question as we find that the label of Bluegrass and Americana are both terms that can mean many different things to different people. We like to think that our sound is a mixture of many of our favorite types of music that do include Bluegrass and Americana. We definitely pull in sounds from the Funk, Soul, and Blues traditions as well.  
And who were your influences as you learnt music and then began writing together?
It would almost be easier to list artists who didn't influence us. Dorothy grew up listening to an interesting mix…mostly just a handful of artists her dad loved and played constantly (Johnny Cash, Credence Clearwater Revival, Bob Dylan, The Beatles) and whatever was playing on the top 40 pop and country radio stations. Interestingly enough, there also used to be a really awesome oldies station in Nashville, and Dorothy wore that station out. Because of that station, she developed a love of Motown and Jack Ashford's tambourine. A little later in life, she became obsessed with the New Orleans funk scene, and I think that influence shines through a lot in her writing/performing. Some of my main influences would include B.B. King, J.J. Cale, CSNY, Tony Rice, and Doc Watson (to name just a few). There are so many others I'm sure I'm forgetting at the moment.
Growing up in the Nashville area, with all this music around you, you must have seen people try, fail and leave the area, what is the feeling of the city? Is it success and music, or is there a bit of an undertone of unfilled desires?
Growing up just outside of Nashville we always knew that Nashville was a special place in regards to music and songwriting. We've definitely seen people come and go, but it seems as though most everyone takes away many more positives than negatives. In many ways the musician community in Nashville is extremely inviting and not cut-throat competitive as many people may imagine. The large majority of musicians are all transplants, therefore you have lots of hungry and passionate people all converging looking to meet compatible musicians to make inspiring music.  
Do you ever get tempted to form that band around yourself that becomes a permanent fixture, or is part of the excitement of a new record/tour about bringing someone new to collaborate with?
We love performing with larger ensembles, but due to financial limitations and scheduling limitations it is quite hard to tour with the same band all of the time. We do have a small number of folks who we call for shows that we consider to be "in the band". All the great musicians we play with also play with many other groups, so it's a bit like herding cats when trying to match schedules and book tours.  It's just the Nashville way.
Do you both write the songs together, or do you come together with songs mostly finished and workshop them then?
The songs on our first three records were all tunes that we wrote individually and then brought to the table for final tweaking. During 2017, we started co-writing for our next album and have grown to really like it. Starting out, we both had some personal songs we really wanted to write but now it seems easier and more productive to write songs together. Who knows how we'll approach the next album. It's always a mystery.
Are they vocal and lyric driven or guitar driven?
Most of the tunes are written with vocals in mind, but a few songs evolved from guitar riffs that I was playing around with. Every song is different. We really don't have a formula, and it's hard to know how or when inspiration will strike.
I've got to ask about the tambourine, it's just not an instrument that people think of learning in the traditional sense. Dorothy, did you enjoy the challenge and novelty of exploring a usually unexplored instrument?
Yeah, I would say it's fun to explore an instrument that most other people don't take seriously…but that's not really why I started doing it. I started learning the tambourine because I saw a few people who could really play it and who added so much to the music with it. And I just thought, I can do that, I want to do that, I want to be as good as those people one day. And yes, it's also very primal and grounding…you can totally lose yourself in it.
You'll find The Danberrys almost everywhere in NZ, check out their website, Facebook or the poster below for all the dates.