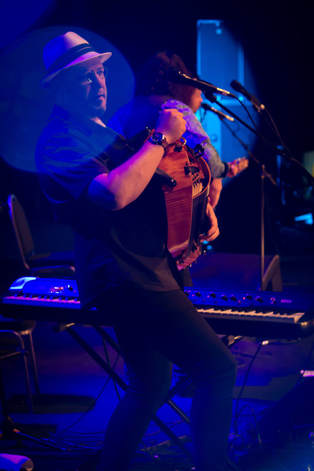 Nicolas Boulerice – WOMAD 2018 – Le Vent du Nord
Nicolas Boulerice and Rejean Brunet were both bubbly, loud and full of oomph as they spoke with me inside the media centre at WOMAD 2018, in the sunny Brooklands Reserve of New Plymouth. Nicolas plays hurdy-gurdy and Rejean plays accordion and jaw-harp in Quebecois group
Le Vent du Nord
. They performed two amazing sets at WOMAD, and were one of the most talked about acts, as far as I could tell. 
As the resident folk music journalist I took the chance to talk with them about folk music back home in Canada, and the roots of their genre in home state Quebec. 
Are you considered a traditional folk band in Quebec?
We play traditional music, yes. We are invited to Irish festivals, folk festivals, jazz festivals, so even though we play traditional music, it is a mix of things and we can go anywhere, which is very interesting for us. Everything is possible. 
We compose on the style of those traditions, so it takes us somewhere else. 
Folk music, especially traditional folk music, can often be quite limiting in its range and style, as traditionalists have a certain sound they expect. Le Vent du Nord like to find trad songs that have never been recorded but they also write themselves.
Are you conscious of the traditional sound?
We want to bring that traditional sound, but we don't think about how it needs to sound. We bring our own soul and feelings to what we do. We start with very old recordings, from the 50s and 40s. We take it and we sing it that way, but we add instruments and our own thing. We try to keep the traditions, try to keep the song intact and not change it too much. 
Is the tradition strong in Quebec?
It's quite alive. We have more festivals of traditional music than ever. The young generation play that music, so it's nice timing. A lot of people have opinions on where the line is in tradition. Traditional music has always been just the music from Quebec, but now it has become a style of music. People compose something with an accordion, foot tapping and violin and they say its traditional. It's an interesting time. For us it's important to stay in touch with the tradition, even if we try things the link to the past is really essential.  
How did the Celtic sound come in to Quebecois music?
In the 19th century, it happened with the Irish. It was so important for us, when they arrived in Montreal, they were poor, fighting the British and mostly Catholic, like us. It was enough to share, but not the songs, as we didn't speak the same language. I don't know any songs in our tradition with English lyrics. We have some English words here and there. It was the tunes, reels and jigs, (and the whiskey), that was shared. Our songs were already from Brittany and Normandy so it was already close to Celtic sounds. 
I asked what 'podorhythmie' was and both Rejean and Nicolas started tapping their feet and hands, and explained it was foot tapping.
It's very typical in Quebec, we don't know exactly where it's from. We know a few bands in France, who are doing some kind of rhythm, and in Scandinavian countries. People sitting down and doing something with their feet, it's a bit different in Quebec. Just one musician, we don't have drums, we have someone doing this. It's the most portable drum kit!
​(FINN MCLENNAN-ELLIOTT)