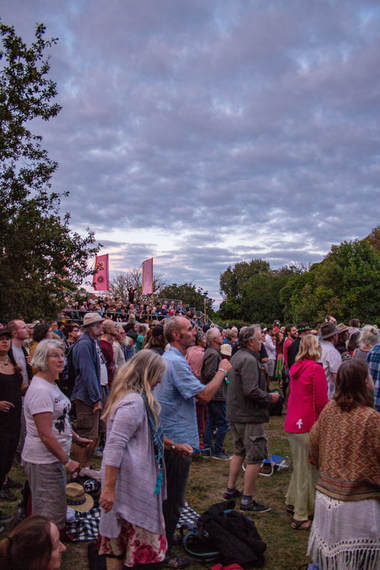 For my second WOMAD I brought along a photographer, with the intention of capturing some of the beauty and joy of this festival. I also came into this 2018 festival more excited for the lineup of musicians than I had been in 2017.
There is an opinion that coming in to WOMAD you're meant to be uncertain of how many bands you know and the mystery is meant to appeal. However, in this case there were names on the list I had already known and was over the moon to see live. This added to the excitement for me.
I was lucky enough to interview a few before the festival and have a few interviews from on site to post for your reading pleasure next week. I'm going to just quickly highlight a few of the weekends treasures for me, and then show off some of the photos Jess Bailey took.
Friday night kicked off with a bang and gave me my standout immediately – Violons Barbares. This trio made up of members from Bulgaria, Mongolia and France was exceptional. They had an immense energy, enthusiasm and outrageous talent. There were songs from Bulgaria, Mongolia and songs that merged the two cultures – featuring everything from throat singing to drum solos.
The song of the weekend was Aldous Harding's newest number 'Heaven is Empty'. It was chilling, truly beautiful and left the audience silent as she closed her Friday night set with it. I cannot wait to see this develop as she records her next album.
Le Vent du Nord brought the Black Quartet on stage with them for their Saturday performance and it was a beautiful and unique collaboration. I knew there were a lot of people in the audience who had no idea what the hurdy-gurdy was. I spoke with two of the band and I'll have that interview up next week.
Solo of the weekend goes to Guy Harrison from the Miltones for a face-melting organ solo on the Gable Stage.
Despite being a bit disappointed in Rodrigo y Gabriela if I'm honest, Tinarwen were the saving grace of my Sunday night. The group from Mali were energetic and captured the 'desert rock' ideal perfectly.
Food of the weekend goes to Kraken Crumpets for the three I managed to sneak in across the whole day of Sunday.
Would I go back? Oh yes, you'll see me at WOMAD again.  
(FINN MCLENNAN-ELLIOTT)