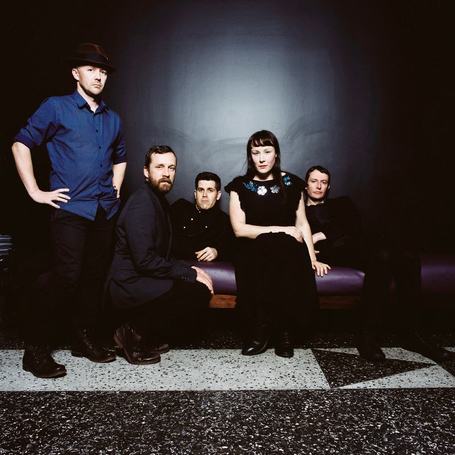 There's nothing quite like a party at the Tuning Fork – and we're in for a
double whammy this Friday night
. Eb & Sparrow and Carnivorous Plant Society are both celebrating exceptional albums. 
Eb & Sparrow come to us on the back of two great releases, self-titled in 2014 and Sun/Son in 2016 (a Country Music Award finalist). Their Americana sound is quickly becoming the most widely regarded sound in NZ, and new album Seeing Things cements them at the forefront of the genre. 
A long time in the works, Seeing Things was recorded in January 2017 in the historic homestead Ahiaruhe. Utilising vintage recording equipment and instruments in the large wooden building to take advantage of the lush textures and presence, the band has pulled out all the stops. 
The opening chords of 'Death' set the scene so perfectly, with the lapsteel, the brass and the dark melancholy of their sound. Ebony's voice is haunting, and sends chills as you fall into the groove that is Eb & Sparrow at their absolute best. The album is written by Ebony Lamb and co-produced by Brett Stanton alongside the band. 
A treat for the ears on the album is the fiddle and strings, overseen by Anita Clark (Devilish Mary & The Holy Rollers). These slide into your consciousness with such subtlety and delight. The pizzicato in single 'To The West' exemplifies this, the strings add a level of depth unexpected from such delicacy. 
Seeing Things is a slow burner, but if you're looking for a song to have a bit of a groove to, 'Settle' is the one for you. A shift in tempo is a welcome change in the latter half of the album, and a tasty, almost surfy, electric guitar solo surrounded by belting brass is definitely a highlight. 
It's the tone of the band that is something so different to others in our folk world. Ebony's voice is unique, silky as she floats from song to song. The guitars are drenched in alt-country twang, and that's without mentioning the actual twang of the lapsteel. Then there's the brass, which ties that sound together with a nice little bow. 
'My Old House' is the quintessential closing track, with Ebony stealing the show. A beautiful horn solo, and those aforementioned strings putting the finishing touches on an album we'll be listening to for a long while. 
With one change to the lineup, new drummer Justin Barr, we are still treated to the lapsteel of Bryn Heveldt, the interchanging multi-instrumentalists of Gram Antler (bass, guitar) and Chris Winter (bass, trumpet) and Ebony's own guitar. 
Friday night at the Tuning Fork is going to be a treat. We'll see you there!
(FINN MCLENNAN-ELLIOTT)