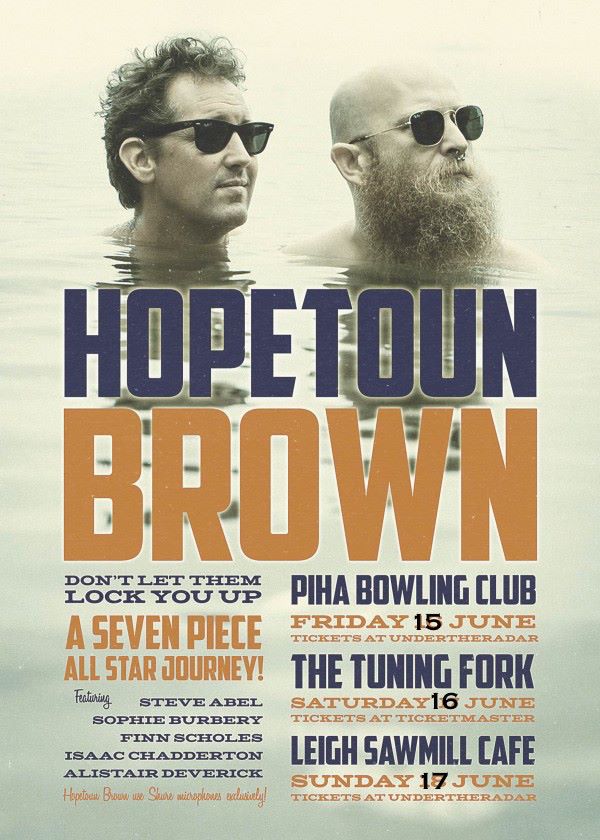 Nick Atkinson reports, "Finn's [Scholes] been working us hard on this tour, making us practice, not something Tim and I are used to when on tour."
​Hopetoun Brown have taken Finn Scholes on tour with them and are nearing the end of a huge 36 or 37 date tour around the country, largely thanks to Arts on Tour. Nick says it's probably more than the concrete number as they've done a few ambush gigs at record stores and the like.
​
They're gearing up for a huge weekend, sold out at Piha, then the Tuning Fork on Saturday and the Leigh Sawmill on Sunday. Nick gave us the scope of what to expect at the Tuning Fork on Saturday night.
"We love the marching around business, and normally only get to do this once a show," Nick is referring to the off stage horn playing that Hopetoun Brown traditionally end or start their show with, marching through the audience.
They've challenged the status quo at the Tuning Fork and are offering something quite different to the normal show. It'll be one long set, kicking off at 8.30pm with Nick and Tim coming down the big stairwell. They'll march their way past the bar, picking up Finn Scholes on the way and to a little stage that has been set up in the back of the venue.
"That'll freak the audience out," Nick says, challenging the audience to turn around and join them for this small opening set with vibraphone. Hopetoun Brown opening for themselves.
They'll march their way back to the main stage at the other end of the Tuning Fork, and, rock the night away. They've got a seven piece band, all the names you'd expect off their album – Steve Abel, Sophie Burbery and more! The main stage will be a music shop, with Rhodes, congo, bongas, bells, whistles and almost every other instrument you could dream of. They've got some dance numbers planned, and if you've not heard new album Don't Let Them Lock You Up you better go and take a listen – it's a bit different to the previous records.
'The band is hot, we've played so many shows, Finn even hit a double C# on trumpet," If you know what this means, Nick thinks Finn might have some more exciting trumpet in store on the weekend.
Second Hand News is going to be there, although we're not sure where to stand, as there's going to be stuff going on all over the place!
(FINN MCLENNAN-ELLIOTT)